Decorate your bin this Easter!
Waste collection continues to be an essential service during these changing times.
Put a smile on the face of our waste teams 😊 by decorating your bin using recycled or reusable materials and take a photo. You may even like to dress up yourself!
Get creative and decorate your bin, take a photo, share and dispose of the decorations into the correct bins to win! To enter your photo, tag @RecycleRightWA, #RecycleRightWA #EasterBinny and your local Council to go in a draw to win a $50 gift voucher from Flora & Fauna and a free virtual tour of the Regional Resource Recovery Centre (RRRC).
Please ensure you remove the decorations prior to your bin collection so our waste truck drivers can complete the collections as usual (with the bonus addition of wearing a pair of bunny ears!)
Join in the Easter Binny fun and keep a lookout for our waste truck drivers wearing Easter Bunny ears over the coming days!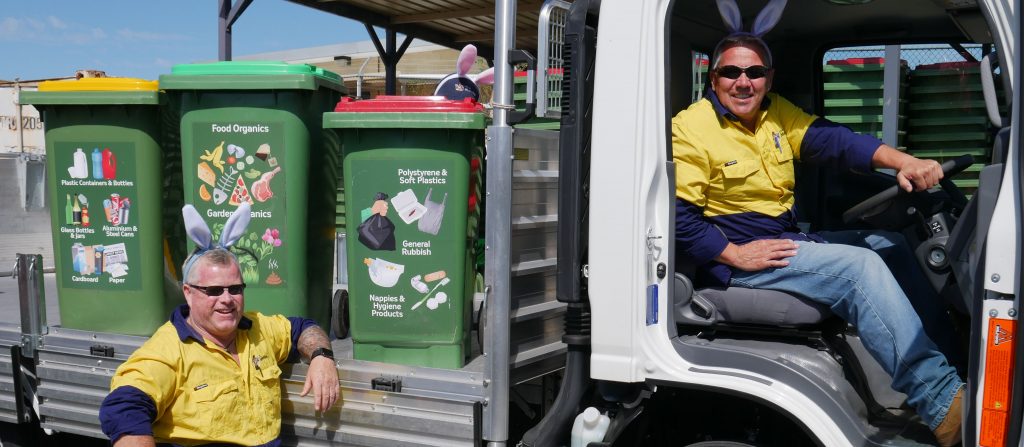 Terms & Conditions:
This competition is open to residents of the City of Melville, City of Kwinana, City of Fremantle and Town of East Fremantle.
The competition runs from 12.00am on Wednesday 8 April and closes 11.59pm on Tuesday 14 April 2020.
Entries must tag the Recycle Right WA Facebook page @RecycleRightWA (https://www.facebook.com/RecycleRightWA/) and use the tags #EasterBinny and #RecycleRight.
Tag the Facebook page of your Local Council – @MelvilleCity, @CityofKwinana, @CityofFremantle, @TownofEastFremantle
Decorations must be disposed of prior to your bin collection into the appropriate bins.
Please do not damage your bins by painting them. Bins need to return to normal once the competition is over.
There is a maximum of one entry per person.
There will be one prize per Council/City—four (4) prizes in total. A $50 gift voucher from Flora & Fauna (https://www.floraandfauna.com.au/) and a virtual tour of the RRRC with our Waste Education Officer (https://recycleright.wa.gov.au/tours/).
The winners will be drawn on Friday 17 April and notified via Messenger.
Prizes are not transferable and not redeemable for cash.
A proof of residency will need to be shown before receiving a prize.
The prize winners names and photos will be shared on the Recycle Right and Local Council's media and social media platforms.