Your guide to a sustainable holiday season
By Stephanie Collins
Have you ever waved your last guest off home, sat down to take a breath, and realised you're surrounded by a mountain of wrapping paper, packaging, food scraps and leftovers to deal with, not to mention all the decorations to pack up?
The festive season can be an exciting and hectic time for many of us, with presents, decorations, food, and gatherings to organise and celebrate. It can be overwhelming to think about the waste produced over the holidays, and what to do with your own waste after the celebrations are over.
Here are our five top tips to manage a sustainable festive season. From how to limit waste through planning to dispose of it responsibly, you can make your holidays more sustainable.
1. Living Christmas trees
Looking for an alternative to the plastic Christmas tree? Give a living tree a try!
A living tree in a pot can provide you with the classic Christmas aesthetic and provide a fun Australian twist to your decorations by using one of the many native trees available. Consider the Norfolk Island Pine or the Woolly Bush. Once Christmas is over these trees can be kept for many years to come or planted in the garden to enjoy.
Not sold on having an alive tree? Make your own tree!
Use branches, twigs, or get creative with some cardboard and paper from your recycling bin to create your own unique and sustainable tree.
2. Sustainable decorations
Don't break the bank for decorations every year, reuse last year's or try these sustainable options to get something new, or new to you at least!
Check out op-shops, second-hand stores, and buy nothing and buy/swap/sell Facebook groups for decorations. Not only does this save you money but it extends the life of the decorations and reduces the demand on resources to create new decorations. Also consider donating your old decorations for someone else to enjoy!
Get crafty with it!
Break out the scissors and glue and create something beautiful and unique by upcycling your old decorations, reuse some of your recyclables and everyday items, or make use of leaves, flowers, and twigs from your garden
3. Conscientious gift giving
The best way to reduce wasted resources in gift giving is to do your research!
When buying a gift consider carefully how it was made. Try to shop from companies with sustainable practises and products that don't have a lot of unnecessary packaging. Shopping local is a great way to shop sustainably as you can often talk to makers, learn about their sustainability practise and support your community. Check out op-shops and second-hand stores for interesting gifts with low environmental footprints.
It's the thought that counts, so put the thought in; consider how your gifts will be received and used!
Avoid gag gifts that are fun for a joke or two but then go to waste. The same goes for cheap plastic toys and gifts that don't fit the wants or needs of your loved ones, you can even encourage the giving of sustainable reusable items (like keep cups and bees wax wraps).
While we aim to reduce the number of unnecessary items given you don't have limit the fun, try holding a Secret Santa gift exchange, do a 'thriftmas' with op-shopped items, or encourage everyone to give handwritten letters or homemade gifts to each other instead. Activities and experiences are another great way to give a gift without giving physical items.
4. Creative gift wrapping
If you're looking for an alternative to single use wrapping paper (or just tired of your gifts looking crumpled), why not give Furoshiki a try!
The traditional Japanese gift-wrapping technique use fabric with beautiful colours and patterns folded into a never-ending array of exciting styles to wrap any gift you've got no matter the shape. Save the wrapping fabric along with any gift boxes and bags to be reused for years and years to come. Check your local council to see if they run furoshiki workshops.
If you're still wanting paper options for wrapping, you can still be sustainable while giving beautiful gifts!
Look for fun paper goods to reuse as wrapping paper, from magazine and newspaper to your kid's art projects you've run out of space on the fridge for. If you are buying your wrapping paper, look for ones made from recycled paper and avoid plastic ribbons. If you're a careful unwrapper you can even save the paper for reuse, or if you're an excited wrapper ripper make sure you dispose of the wrapping paper in your recycling bin.
5. Food waste
Food might be the best part of the holidays, but food waste is most definitely not.
Like many everyday sustainable practises, preventing food waste begins with planning. Do your research before you shop, plan out what you're going to cook, write a shopping list (and stick to it!) and keep an eye out for sustainable options. Careful planning can ensure that you don't over shop and over cater for your holiday meals and gatherings. Have containers prepared for leftovers to be sent home with guests or into your fridge for later. If you have any unused food that is safety sealed, consider donating it to your local foodbank.
All your food scraps can go into your lime-green lidded FOGO bin. This includes meat, bones, seafood, diary, bread, vegetables, and even cooking fat once it's wrapped in newspaper. Remember if it was alive then it goes in the FOGO bin. If you are concerned about bad smells in your bin, you can freeze things like seafood and meat and put them in your bin before pickup. You can also put them in a bag provided the bag is labelled as certified compostable. What you put in your FOGO bin is saved from landfill and will be processed and turned into compost and other gardening products.
No FOGO bin? No stress! A home compost, warm farm, bokashi bin or chooks work just as well for those holiday food scraps.
If you're unsure of how to dispose of your holiday waste check out Recycle Right's A -Z list for which bin to put it in.
---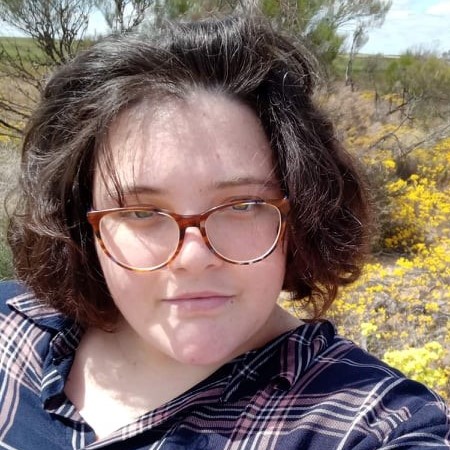 ABOUT THE AUTHOR
Stephanie is a recent graduate of a Master of Science Communication from the University of Western Australia. She also has a Bachelor of Zoology, has lived in four states and territories across Australia, and is always amazed by Australia's unique ecosystems. She loves using her communication skills to encourage people to explore and care for the environment.